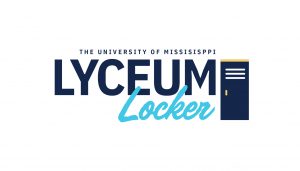 Lyceum Locker is the University of Mississippi's school supply closet.
Lyceum Locker offers a large variety of free school supplies, including the following:
Notebooks, folders, and binders
Paper, sticky notes, and notepads
Pens, pencils, markers, and highlighters
Scantrons
White out and tape
Staplers and scissors
TI-30 calculators
Organic Chemistry hexagonal paper and graphing paper
Canvas bags
And MORE!
Location: Johnson Commons East
Hours: 8:00 am – 5:00 pm
Contact: lyceumlocker@olemiss.edu or (662) 915-7248
Free. Discreet. No questions asked.
Why school supplies?
Students with low test scores from a high-income household are more likely to graduate college than students with high test scores from a low-income household (Economic Policy Institute, 2021)
31% of undergraduate students live in poverty (Pew Research Center, 2016)
Students who have access to public benefits are more likely to graduate from college (#RealCollege Report, 2021)
In 2020, 67% of 4-year college students used emergency aid to purchase school supplies (#RealCollege Report, 2021)
Lyceum Locker is NECESSARY!
If you're interested in supporting Lyceum Locker, please email lyceumlocker@olemiss.edu. Check out our Amazon Wishlist here, or make a monetary donation at umfoundation.com/locker.
Lyceum Locker on the Map
The entrance to Lyceum Locker is circled in blue on the map below. The entrance is at the end of the building and faces Weir Hall.